Active Lives for Older Adults
Older adults, individuals 55 and above, are a significant and growing segment of our communities. All adults benefit from engaging in Y activities as they enhance connections, decrease a sense of isolation, and improve overall well-being. Maintain your health and functional ability with programs designed especially for your needs. We begin to lose bone density, balance and coordination as we age. The good news is that there is something we can do about it! Strength training and creating a fitness regime can deter or prevent these issues from occurring. Our Active Older Adult and SilverSneakers classes will teach you how to build muscle strength, endurance and increase mobility. Everyday activities will become easier, posture will improve and you'll look and feel great!
Register for Older Adult Programs
What is SilverSneakers?
SilverSneakers is a fitness program for active older adults that is included with many Medicare Advantage plans. SilverSneakers helps millions of people on Medicare defy the odds, shatter stereotypes and answer every challenge with, "I can do this!" SilverSneakers members can obtain a gym membership at a discounted rate!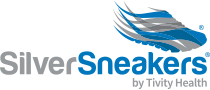 To find out more information, visit their website here: https://www.silversneakers.com/
---
LIVE Virtual SilverSneakers Classes
We're going LIVE with our SilverSneakers classes. Now you can participate in a SilverSneaker Class from your own home via Zoom.
---
Programs
Many of our YMCA locations have specific fitness programs and social activities. Fitness programs may include EnhanceFitness® and Aquatics group classes. Social activities may include painting with canvas, euchre tournaments, volunteer work and social trips. To find branch-specific information, you may read the newsletters or see the calendar for the branch of your choice.
Get More Information
Sign up for Older Adult information on events and programs for your branch.
Older Adult Programs are sponsored by: